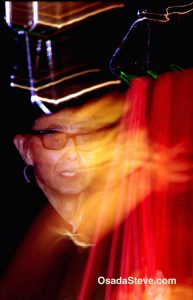 About my sensei, Osada Eikichi
March 15, 1925 to September 12, 2001
May his soul rest in peace.
The late Osada Eikichi is widely regarded as the godfather of modern Japanese Rope Bondage and is credited with pioneering live SM performances in Japan from the 1960s onwards. On January 20, 2001, he collapsed on stage and spent the last eight months of his life in a home for the elderly.
Back in the 1960s, it took a man in his late thirties  to dare bring the hitherto enigmatic world of kinbaku into the open. It would take a man of tremendous courage and skill to pull this off against all odds. Were it not for this man, nobody could possibly predict where Japanese Rope Bondage as we know it would be today. The example set by Osada Eikichi has smoothed the path for a whole new generation of nawashi to appear in public many years later.
A lot of Osada sensei's performances took place in so-called nude theaters. A typical show would run for 10 days, then move on to another theater. As the name suggests, the main attractions were strippers. These theaters usually feature six strip acts, with each performer repeating their acts several times during a day.
During the peak of Osada Eikichi's career (in the early 1980s) he would draw a daily audience of 2,000 people and command fees of up to $3,000 per day. From the 1990s many such theaters started to disappear, and audience levels continue to decrease. Today only a handful of theaters are still organizing SM events.
A detailed bio of Osada Eikichi's life can be found here.
Please also read "My Life with Osada Eikichi" here.