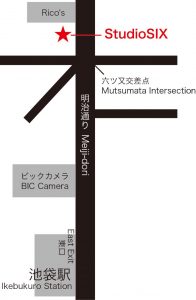 Start from the east exit of Ikebukuro Station.
Walk along Meiji dori Avenue towards Oji. Pass the following landmarks: BIC Camera, Yamada Denki, and MOS Burger until you reach a huge intersection (Mutsumata Kosaten) with a highway overpass. Cross that intersection and keep walking along for another 50 meters.
The dojo is located on the tenth floor in the building adjacent to Rico's Convenience Store. Caution: If you find yourself crossing a bridge over railroad tracks you have walked too far. Go back to the building next to Rico's Convenience Store.
Address :
Osada-ryu / Studio SIX
1002, BIG Office Plaza
2-62-8 Higashi-Ikebukuro
090-1208-9889
Email