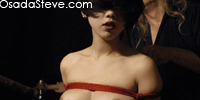 Studio SIX opened in April, 2000, to house Osada Seminar. From August, 2002, it features weekly Osada Live Kinbaku performances that range from the highly technical to the very intense.
Osada Live @ Studio SIX is held every Saturday, always featuring a different woman, and structured as follows:
Schoolgirl Nights will feature young women in various cutesy dresses, including maid and schoolgirl uniforms – before moving on to strict birthday-suit bondage.
Amateur m-woman Nights enjoy something of a cult following, as Osada Steve will be using every trick in the book to break in newbie subs.
Hardcore Nights will feature seasoned submissives getting heavy doses of pain delivered professionally.
Admission
15,000 yen (watching only)
20,000 yen (taking photos*)
30,000 yen (taking video*)
*May not be available on certain nights.
Reservation
Please make reservations early, as number of seats is limited.
Location
Click here for map.
Up-to-date info
Visit the Events page to check for last-minute changes.
Caution
Osada Live @ Studio SIX is featuring intense sessions with genuine subs. Read: nothing staged, nothing faked. Due to the nature of these activities, there might be last-minute model changes. As a result, what might have originally been billed as Schoolgirl Night could potentially turn into a Hardcore Night, and vice versa. Occasionally, during the breaking-in of a newbie, it may transpire that the woman's requirements involve the administration of domination and pain.
Therefore, people with narrow SM thresholds or fixed expectations are advised to seek prior verbal consultation to assure an entertaining night.
Modus Operandi
Osada Steve believes in the S = Service / M = Manzoku (Japanese for satisfaction) philosophy that guides all action towards providing the submissive with a pleasant experience. Though numerous videos may suggest otherwise, Osada Steve is not a so-called slave trainer, but more of a person trying to assist each sub to explore and discover herself. Osada Steve's tool of choice is rope, therefore his main subjects tend to be women that seek to be bound. The desire for bondage manifests itself in numerous ways, and the Kinbaku/Shibari system distinguishes between two main categories: shuchi nawa and zeme nawa. Both styles may borrow from each other, and transcend from one to the other.
With rope, everything is fluid. There is no simple solution, no magic bullet. The challenge is to go beyond the technical and safe application of rope to induce in the sub a state of mind (aka subspace) that is vital to the sub's sanity and that cannot be attained by other methods.
These are lofty words and lofty goals, and Osada Steve does not claim to possess the ability to fully reach those goals every single time with every single sub(ject).
Osada Steve on Hardness
It is easy to drive hard and break the engine, just as it is easy to indiscriminately apply pain.
Rope can very easily inflict severe damage when done by an unskilled rigger.
It is easy to cause pain, just as it is easy to inflict damage. It is easy to be hard. Because there is no skill involved.
The Requirements of the submissive
In Japan the use of safe words is very uncommon. There is very little scene negotiation, and next-to-no verbal communication during actual play. This doesn't make the Top any less accountable for the well-being of the sub, but rather increases the challenge to explore the individual requirements of each play partner through other means – like heightened awareness, or shifting towards full-body communication.
There is an intrinsic reluctance on the part of the sub for opting out during private or scene play with a person she/he has just entrusted with her/his life. See FAQ for anecdotes and pointers on etiquette.
Other Services Provided by Studio SIX
Private coaching in Shibari
Individualized SM Nightlife Tours
Photo and Video Opportunities
Hands-on Activities